The barcode scanner is used in conjunction with lunch cards. It reads the student information on the lunch card, and enters it directly into SL. This allows for swiftness and accuracy as students pass through the line.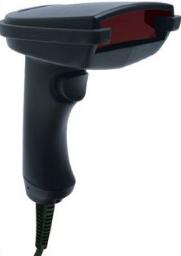 Visit our Products page for current scanner pricing.
The lunchroom barcode menu was designed to be used with a barcode scanner in the lunchroom, reducing the need to keep using the mouse. It is especially useful for schools that serve á la carte items. The transaction type and maintenance options can only be accessed when the cursor is in the ACCOUNT# edit field. All of the transactions that take place in the LUNCH window can be accessed with the scanner.
It is very important to practice scanning before using it in the lunchroom. The scanner operator should keep a close eye on the monitor to make sure the transactions are correct.
A barcode menu can be printed here and laminated for use in the lunchroom.