It is recommended that you make a backup at the end of each day. If you ever need to use your backup, you will need to recreate all the activity that has passed since the backup was made to the present time. If you need to use your backup, but have questions on how it is accomplished, give us a call. We will be glad to help.
Making backups cannot be emphasized enough. We do not live in a perfect world and things can go wrong. There are many outside factors that can create a problem. Over the years we have seen computer memory go bad, power failures during posting processes, fires in schools, untrained operators making mistakes, accidental deletions of important files, lightning strikes, etc. Each of these unfortunate events can easily be salvaged if backups are made on a regular basis. If backups are not made, often the only recourse is to begin from scratch.
The easiest way to make a backup using the single user version of SL is to copy the entire lunch directory or folder to another location. It is recommended that you copy the directory or folder to an external source incase your hard drive goes bad. It is also a good idea to only have one copy of the directory on a hard drive at a time. This way the backup won't be used inadvertently. This will give you a complete backup apart from your computer. Keep the backup labeled and dated so that you will be able to find the most recent backup in the event that you need to use it. If you wish to only backup the datafile, copy the file named SLD2011.rsd to the remote location. You can backup a single data file or the entire directory…to a single or multiple locations.
Making backups can be as easy as copying the entire School Lunch folder to another location on your network, memory stick, or any other type of removable media. Making a backup is easy. From the Command Center, click CREATE BACKUP FILE.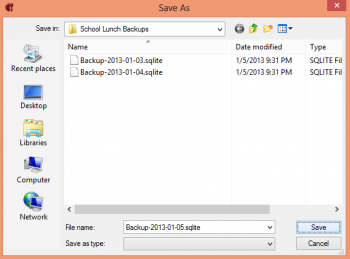 Select the location you would like to save the backup to. We recommend saving it to an outside source (flash drive, etc.) - not the hard drive. This way, if your hard drive were to crash, you would still have easy access to all of your data.

The backup file name is set to default to the current date. You do not need change the 'Save As Type:'. School Lunch will automatically save it as the right file type.

Hit the SAVE button
If you desire, you can backup to more than one location by creating an additional backup instance by repeating this process.
If you find yourself needing to make a backup more than once on a specific day, modify the name as not to overwrite or 'replace' the last backup. Use a method such as the following:
Multi-User & Multi-School's can make backups by following the same steps as the Single-User.
Multi User or Multi School programs also have a built-in backup system included with CubeSQL database server. Refer to the manual that came with the CubeSQL server program.
The first time you run School Lunch, a new folder is created called SLExternals. This folder is automatically added to the 'Documents folder' on Mac OSX or to the 'My Documents' folder on Windows computers on the computer from which the report was printed. Printing from multiple computers will cause report folders to be created on each computer, but each computer will only have the reports which were printed from that computer. If you were to check inside the SLExternals folder you will see a separate folder for Lunch, Breakfast, Snack, and Deposit. An additional folder is also created called Backups. After each daily report has been processed properly, a backup copy is copied to the corresponding meal type folder found in the SLExternals folder. Those files are not to be moved by the user. School Lunch will know where to retrieve them if ever needed, so it is best not to bother the SLExternals folder, just know that it exists.
When entries are made, they are appended to main data file. If you make a backup before a report is posted, it will still show that you need to post a report if the backup ever needs to be used. Automatic backups are not a substitute for manual backups!
To use a backup, you'll need to do a couple of things:
Find the backup file you'd like to restore, and make a copy of it (leaving the original intact, in your backups folder.) It probably looks something like this: Backup-2013-01-13.sqlite

With the Copy you've just created, rename it SLD2011.rsd

Move the file into your School Lunch folder, replacing the SLD2011.rsd file that already exists in the School Lunch folder.
If you have questions about restoring a backup, don't hesitate to call us before hand.