The Last Report Manager manages all previously printed reports.
When you need to print a previously posted report, select the LAST REPORT MANAGER from the REPORTS menu or LAST REPORT MGR from the Command Center and the Last Report Manager window will appear.
The Last Report Manager will easily allow you to find the desired report. Menu buttons for each type of report run along the top of the window. Pressing these buttons pulls up a menu with the current month options, and the today option, for the report you want to print. When you choose an option, all existing reports for that option will appear in the list box.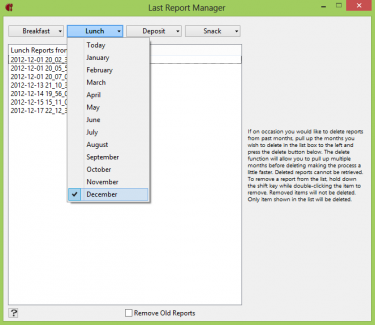 Options in the list can be sorted by pressing the header at the top of the list which shows which type of report is being viewed. Reports are named using the following format: year_month_day (space) hour_minute_second.txt. This makes finding the exact report to print easy to find.
Clicking on a report from the list box will bring up your default print screen, and you can print straight from there.
Clearing out unwanted past reports is easy to do from the Year End Maintenance Clear menu option under the UTILITIES menu. Remember to hold down the CRTL button on your keyboard, when clicking on the Utilities menus, to access the UTILITIES options. A backup of past reports can be accomplished by copying the SLExternals folder to a backup location. This should be done at the end of each year and past year's report files should be cleared so current years files are easier to find.
CAUTION: Make a backup of all data before attempting any of the options under the UTILITIES MENU. All of these options will alter your data and are not reversible.