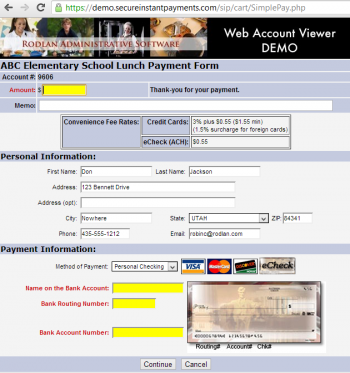 We have partnered with Secure Instant Payments to make online student lunch deposits an option for parents. You need to subscribe for WAV in order to use SIP.
When used in conjunction with WAV (Web Account Viewer), SIP provides integrated online payments right from the WAV account screen. If parents owe money the MAKE PAYMENT button shows in red along with the negative balance in their account. If their account is in the positive, the MAKE PAYMENT button shows in the normal color.
SIP comes at no additional cost to the school. Parents are charged a 55¢ convenience fee for e-check and a 3% convenience for credit cards. There is no setup fee for schools.
Schools need to fill out an application for SIP. Contact Rodlan for details.
To setup your SIP account with School Lunch, see the SPECIAL TAB in School Lunch preferences.
CLICK HERE FOR WAV & SIP INSTRUCTIONS FOR PARENTS
Visit our SIP page for current SIP pricing.